Hotlinking
= direct linking = bandwidth stealing = traffic theft = illegal = I have to pay for = I don't want!
So that's why it is disabled for the contents of my site.
It is allowed to use my images for any non-commercial purpose! But: Anyone who tries to display one of my images on his website by just adding the link to its original URL (my webspace) will get this instead: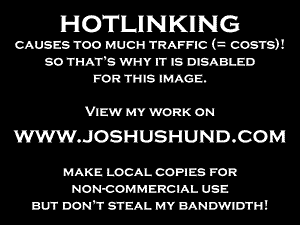 Still don't know what it's all about? Visit http://altlab.com/hotlinking.html !

Hilfe für deutsche Webmaster gibt es hier: http://www.trafficklau.de/

Or read this email conversation I once had!
Please read it before flaming and complaining!

Andre:

(subject: hotlinking message)

you're a pretentious prick.

joshus_hund:

Do you know what you are talking about?

http://altlab.com/hotlinking.html

You try to steal from me. I prevent that. And you have the impertinence to call me names for that?

So what do you suppose how I should call you??

Think twice!!

Andre:

I was exposing your work not "stealing" you ass hat.

joshus_hund:

Expose my work! Nothing against it.
Download my images, load it to your own webspace, give me credit. That's all.

Did you read the link I gave you? Or didn' you understand it?
I don't pay for your traffic!!
Why should I? Just because you call me an ass hat??
I'm not insane!

Andre:

I read and understand it. What I don't understand is why this bandwith "cost" outweighs exposure. I wasn't claiming the image as my own. Anyone that liked it enough to want to know where it came from, could've easily found out.

joshus_hund:

OK, one image doesn't cost me much. But if several private galleries, forums, myspace profiles etc. practice direct linking - then it's too much!
E.g. I pay 10$ for my webspace, 20 GB monthly traffic (file transfer) included. My visitors only use 10 or 15 GB each month, but hotlinkers use another 60 GB!!! Then I have to pay for it, let's say 1 $ per GB. Or I have to buy more webspace. This is just an example but it is close to my own experience. (Chinese forums are the worst btw, there are quite a lot of people over there...)
I don't want to pay for that cause I don't earn anything from my website.
OK?

Andre:

Fair enough. I have a better understanding of your side now.




He's a good guy, isn't he! ;-)